Virtual Lobby Campaign 2019 Comes to an End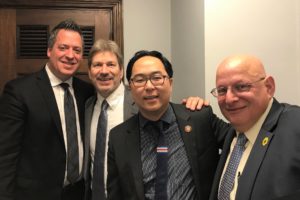 On Tuesday, Bob Guardabasco, NJSRC President; Daryl Rogers, Delegate; and Steve Viton, Board Member made several Congressional visits and on one visit they had the opportunity meet Congressman Andy Kim (NJ-3). Congressman Andy Kim was elected to the U.S. House of Representatives in 2018. He represents the Third Congressional District of New Jersey.
While this year's efforts in Washington DC have ended, the work at home continues. Contact us today on how you can help advance the respiratory care profession.
The conference will be held June 6 and 7 at the Winter Clove Inn and Conference Center, Round Top NY. Sponsored by the NJSRC and NYSSRC with support from our corporate partners.
Save Time and Money with the AARC Travel Discount Program
AARC is pleased to offer an exclusive worldwide travel discount service for our members. This service provides AARC members with access to discounts on hotels and car rental suppliers around the world.