NJSRC is happy to share with you the dates and theme of the 2018 Shore Conference!
The NJSRC is proud to announce that Gunnar Esiason will be our keynote speaker. Gunnar is a cystic fibrosis patient that has grown to live his life despite CF.
Join your fellow therapists at our annual event. Tropicana Casino and Resort this October 10, 11 and 12.
Read More...
The AARC is providing a special training session on the ventilators used in the Center for Disease Control and Prevention's (CDC) Strategic National Stockpile (SNS).
This free program will take place in conjunction with the Annual Shore Conference. The AARC will grant 3.25 Continuing Respiratory Care Education credits at the completion of the program.
The State Board of Respiratory Care posted proposed rule changes on August 6. These changes address several areas of respiratory care. These proposed changes do not reflect the law that was sign by Governor Christie in July 2017. The proposed changes are a cumulation of several different areas within our regulations, such as, delegation of services, scope of practice, codify criminal history background check, reinstatement, license renewal, reinstatement of a license, and continuing education.
The state society will be submitting comments on these proposed changes. Any member wanting to submit comment may do so by following the instructions on rule proposal web page by October 5.
Read the proposed changes on the Division of Consumer Affairs website.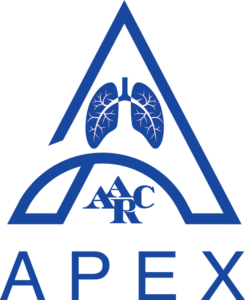 Apex Recognition Award is to recognize the significant contribution of respiratory therapists and highlight best practices in respiratory care that are aligned with evidence-based medicine. The 2018 application period will open on October 1, 2018 and will close on December 31, 2018.
Save Time and Money with the AARC Travel Discount Program
AARC is pleased to offer an exclusive worldwide travel discount service for our members. This service provides AARC members with access to discounts on hotels and car rental suppliers around the world.