CCM Respiratory Therapy Program Participates in the ALA "The Fight For Air" Climb
On April 7, 2018 members of the County College of Morris Respiratory Therapy Club, two members of the faculty and some friends participated in a fundraising effort for the American Lung Association in NJ. The event "The Fight For Air" Climb in Newark, NJ consisted of a 28 floor, 504 steps stair climb. We all knew that before registering for the event but we did it anyway. We knew that the money raised was going to be used for education and research in pulmonary disease and to continue the fight for clean air.
Improving the Safety of Tracheostomy Patients
Each year, St. Joseph's Health takes part in annual National Patient Safety Week by prominently displaying the NPSF posters, educational resources, and promotional materials among hospital staff and visitors. This year, Patient Safety Week was celebrated March 11-17 and the theme was "Every Day is Patient Safety Day." In keeping with the theme, the Respiratory Therapy Department's 2018 Patient Safety Awareness Week (PSAW) presentation focused on "Tracheostomy Patient Safety and Patient / Caregiver Engagement."
Congratulations to Michele DaSilva on her appointment to the New Jersey Task Force on COPD!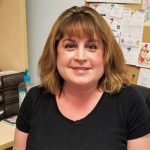 In December, Michele DaSilva, BA, RRT was appointed to the NJ Department of Health Task Force on NJ Task Force on Chronic Obstructive Pulmonary Disease. Michele joins John Rutkowski, another respiratory therapist, who was appointed in October 2016. Other task force members include the Commissioners of Health and Human Services, a member of the Senate and one member of the General Assembly, two public members who represent the health care industry in the state, and five public members appointed by the Governor.
The purpose of the task force is to conduct an investigation on, and study strategies to promote public awareness about, the causes of chronic obstructive pulmonary disease, or COPD, in order to increase knowledge about the importance of early diagnosis and treatment, effective prevention strategies, and disease management.
Election Results Are In
Congratulations to newly elected Board Officers and Directors, and thank you to those who took the time to participate. Our newest board was sworn in at the April meeting.
Welcome to our newly elected officers and directors:
President Robert Guardabasco
President-elect Nancy D'Ambrosio
Vice President Al Toplitz
Secretary Michele DaSilva
Treasurer Al Heuer
Directors-at-Large Barry Ransom and Ken McDowd
Delegate Joseph Goss
Thank you to these NJSRC members, as well as other board members, who continuously strive to promote our profession. The full list of board officers and directors can be found here.
Upcoming Education Events
Northern Region Conference
The NJSRC Northern Region Conference is planned for Monday, June 4, 2018 at the Portofino Restaurant, Oak Ridge NJ.
Conference fee is $45 per person which includes 3 CRCE's, dinner, drinks and dessert. Application for 3 CRCE credits have been submitted to the AARC.
Rocking Chair 2018
The NJSRC and NYSSRC announce their 2018 Rocking Chair Conference.  "Leadership in 2018: Impact, Influence and Inspire."  The conference will be held June 7 and 8 at the Winter Clove Inn, Round Top, New York.
This conference is open to all Respiratory Care Practitioners!
Apex Recognition Award
Apex Recognition Award is to recognize the significant contribution of respiratory therapists and highlight best practices in respiratory care that are aligned with evidence-based medicine.
Save Time and Money with the AARC Travel Discount Program
AARC is pleased to offer an exclusive worldwide travel discount service for our members. This service provides AARC members with access to discounts on hotels and car rental suppliers around the world.
Registered Respiratory Therapist Credential Required
Effective July 21, 2017
Enacted by the Senate and General Assembly of the State of New Jersey - N.J.A.C.45:14E-15 - Issuance of License.
The Board shall issue a license to perform respiratory care to an applicant, who, at the time of the effective date of this act, has passed the Registered Respiratory Therapist examination offered by the National Board for Respiratory Care, or by a successor organization.
The Board determined that, anyone who has applied for licensure, prior to the date of the statute, July 21, 2017, will be licensed under the prior rules and regulation.
Licensing Board Activities
The NJ State Licensing Board has proposed a rule change amending the requirement for a follow-up visit by a respiratory care practitioner within 24 hours of home delivery of nebulizer compressors, concentrators, and medical gas cylinders.
Updated Practice Act Signed
While most of us was enjoying a leisurely week leading up to the 4th of July holiday weekend, the NJ Legislature was busy. In just 3 days, both the state senate and assembly pass the NJSRC's proposed bill, and before this article was finished, the governor has signed the bill into law.